VoIP Shared Telephone Directory
Home

VoIP Shared Telephone Directory
A VoIP shared phone directory is a very useful feature that allows you to create a phone book that includes all the contact details of your customers and employees and share it with all the telephone devices that are connected to your VoIP system. Thus, all your employees will have immediate access to this phone directory and will be able to contact your clients with ease.
To set up a new shared phone book on your VIP VoIP system. You can either import your contact list directly to the system or add your contact details manually on the portal.
Import your contact list
You may already have an Excel document with all your contact details that you wish to upload to your VoIP system. You can import this list directly from your VoIP portal instead of adding each contact manually. This will help you save time and avoid small typing errors that could result in wrong telephone numbers and lost contact details.
To do this, first log in to your VIP VoIP online control panel.
From the main menu on the left, choose phone books.
From the new window, click "Add Phone Book" and then choose a name for this phone book.
Your new phone book will be added to the system as the below example.
Double click on your new phone book and from the new window select "Upload Entries"
The next dialogue window will allow you to choose your contact list file from your PC and upload it directly to your VoIP system.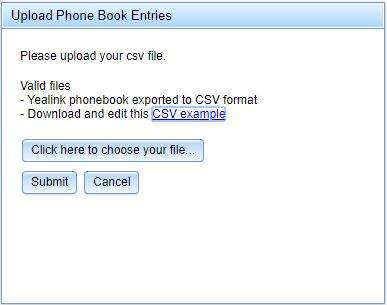 If you are not sure in which format your contact list should be organised, the previous window offers you an easy to use example "CSV example". Once you are done organising your contacts according to this example, make sure to save the file as .CSV document.
Now all your contacts are on your VIP VoIP system and can be shared easily with all the phones that are connected to your system.
Add your contacts manually
If you don't have a contact list and you wish to add your contacts manually to the system, follow the previous steps to create a phone book and from the below window, select "Add Phone Book Entry".
Next, fill the details of your first contact and click "Add".
Repeat the previous step until you finish adding all your contacts.
Benefits of VoIP shared phone book
Being able to share a phone book with your employees can save a lot of time when they need to contact a client or supplier, with no need to look up those details in emails or search on the web, a phone book will allow them to focus more on what really matters.
A shared phone book is more convenient and easier to use than individual phone books. For example, if the details of one client has changed you only need to update them on the system and all your employees will have access to the new details immediately.
You can easily copy your contact list between your email account and your VoIP telephone system thanks to the easy import and export feature that VIP VoIP system offers to all clients. This also means that you can take a backup of your contact list regularly and make sure that you will always be able to restore your contact details if the worst should happen.
You might also be interested in reading "How to setup auto-attendant extensions"
If you have any more questions about VoIP, please don't hesitate to call us on 03300 881182
Or send us an email to sales@vipvoip.co.uk